The Word of the Month is created by

, online language courses. If you like our style, try them for free.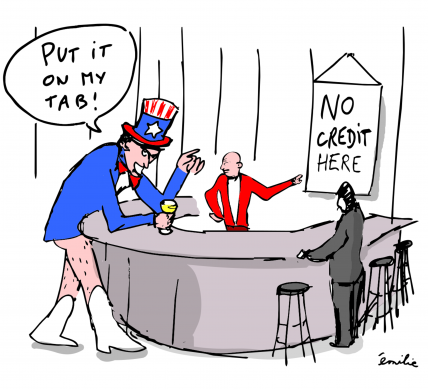 Definition
A debt is a sum of money owed.

A debt crisis is what is happening right now. If you can afford a window, look out of it.

Note: The "B" in "Debt" is silent, like a Swiss banker.
Debtocracy Now: A crisis in numbers
127
– The average number of credit cards owned per person in the US (false).
704 vs 28,841 (USD)
– China's average debt per capita
compared
to the US (true).
5
– The average number of fingers on the human hand (this one's true too).
Notorious Creditors
- China: We're sure that owing billions will have no long-term effects.

- Loan Sharks: Always open for business.

- Future generations.
Notorious Debtors
-
Uncle Sam
(the US government): 12 trillion in debt, but it's ok, they can print more money.
- Bear Stearns, Goldman Sachs, AIG, CitiBank.
- Your little brother Joe. Where's my money, Joe?