The Word of the Month is created by

, online language courses. If you like our style, try them for free.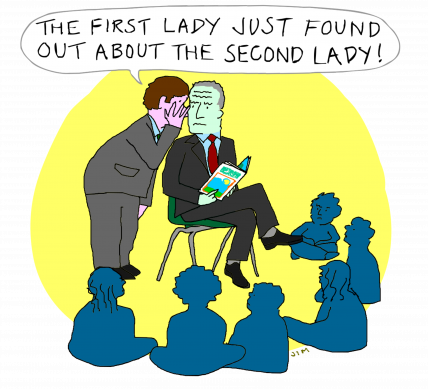 Definitions
First Lady: The title given to the wife or partner of an elected head of state.

Also: The name given to a pioneer or exceptional woman in her field.
First Ladies in the news
Carla Bruni Sarkozy: Former model, pop singer and possible future ex First Lady.

Ségolène Royal: Ex possible future First Lady. In France, called "Royale with Cheese".
Famous First Ladies (Historical)
Eve
: Briefly naked woman. Ate an apple from a snake, thereby ruining everything for everyone.
Lucy
:
Furry lady
. Approximately 3.2 million years old, but could pass for 3.1 million.
Famous First Ladies (Modern)
Jacqueline Bouvier Kennedy Onassis
: First lady with 10 last names.
Barbara Bush
: 4 years as First Lady, 8 years as First Mother, a lifetime as a
fashion icon
.