The Word of the Month is created by

, online language courses. If you like our style, try them for free.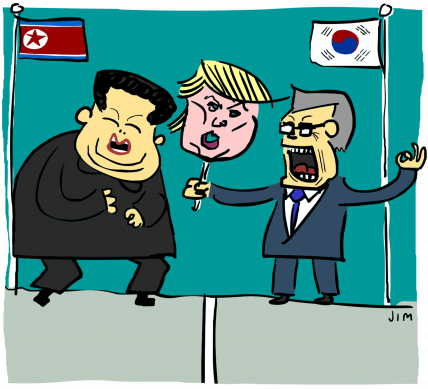 Definitions
A fool: An imbecile; a victim of a trick or embarrassment.

To fool (somebody): To trick or deceive.

April Fools': A day for tricks and pranks.
A foolish timeline I
April 1: April Fools' Day. Better to be a fool for a day than a schmuck for a lifetime.

April 13: US, UK and France launch missiles at Syria. War makes fools of us all.

April 19: In Cuba, Raul resigns. First non-Castro in power since 1959. No fooling!

April 20: International Cannabis Day. Should have scheduled this before the missiles, bro.
Foolish expressions
To fool around: To joke; to waste time; to engage in casual sexual contact.

A fool for love: Falls in love easily. Looking for more than just fooling around.

A fool's errand: A pointless task. See timeline section.
A foolish timeline II
April 24
: Macron and Trump exchange homoerotic
handshakes
, and possibly fool around a bit.
April 27
: North and South Korea begin historic peace talks. A fool's errand?
May 1st
: Day off work to celebrate... work.
Fool me once, shame on you. Fool me twice, shame on me.