The Word of the Month is created by

, online language courses. If you like our style, try them for free.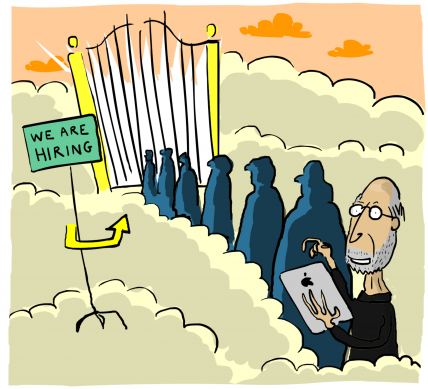 Definition
A job is a position, profession or type of work.

Steve Jobs (1955-2011). Now living in the iClouds. He lived life to the Macs.
Joblessness Around the World
Zimbabwe: 97% unemployment rate (pretty much everyone except Mugabe)

Afghanistan: 35% (lots of distractions these days)

Spain: 20% (we are all indignant)

Apple Computers: 100% (no more Jobs)
iQuotes
"10 years ago we had Steve Jobs, Bob Hope and Johnny Cash. Now we have no Jobs, no Hope and no Cash."
-Anonymous Internet Optimist
Jobs, Jobs, Jobs
Dream Jobs: Dictator, pop star, astronaut.

Bad Jobs: Michael Jackson's doctor, Bernie Madoff's accountant.

Other Jobs: Blow jobs, Boob jobs, Steve Jobs (rest in peace).